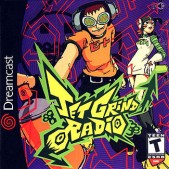 Jet Grind Radio will be coming to your Xbox 360 and Playstation 3 very soon. This will be an upgraded post, and will contain at least eight-teen brand new pieces of graffiti that players can tag. Sega will be launching a contest to see which fan can create the best graffiti, and the winners' graffiti will be put in the game. It's not confirmed if any other new things will be put into the game, but one can suspect improved framerates and perhaps a slight graphics increase.
Here's what Sega officially had to say:
SEGA® of America, Inc. and SEGA® Europe Ltd. today announced the upcoming digital release of fan-favourite: Jet Set Radio™, the wall-tagging, trend-setting Dreamcast™ classic from 2000. DJ Professor K, Beat, Gum, and all the GGs are taking to the streets in this upgraded HD version of Jet Set Radio, which sees players vying for control of the futuristic Tokyo-to by marking their turf with graffiti tagged across walls, billboards and rival gang members. The slick gameplay, genre-blending soundtrack and pioneering art style of Jet Set Radiowill be coming to Xbox LIVE® Arcade for the Xbox 360® video game and entertainment system from Microsoft, PlayStation®Network, and Windows PC Digital Download this summer.
Jet Set Radio lets players join the GGs, an up-and-coming street gang in the futuristic city of Tokyo-to, fighting for the right to self-expression against an overbearing, corporate-controlled police force. Rolling and leaping through crowded urban environments on magnetically driven inline skates, players take control of gang leader Beat and his growing posse of deviant artists as they steal turf from the local gangs by covering the city with colorful graffiti. Guided by Professor K, DJ for the hottest pirate broadcast in town – "Jet Set Radio" – the GGs will ultimately uncover the sinister plot hatched by the controlling powers of Tokyo-to.
I remember playing this game over my friend's house all the time, so I am really excited to see the game in today's world. Keep on bringing back the classics, Sega! (And make some new ones while your at it)